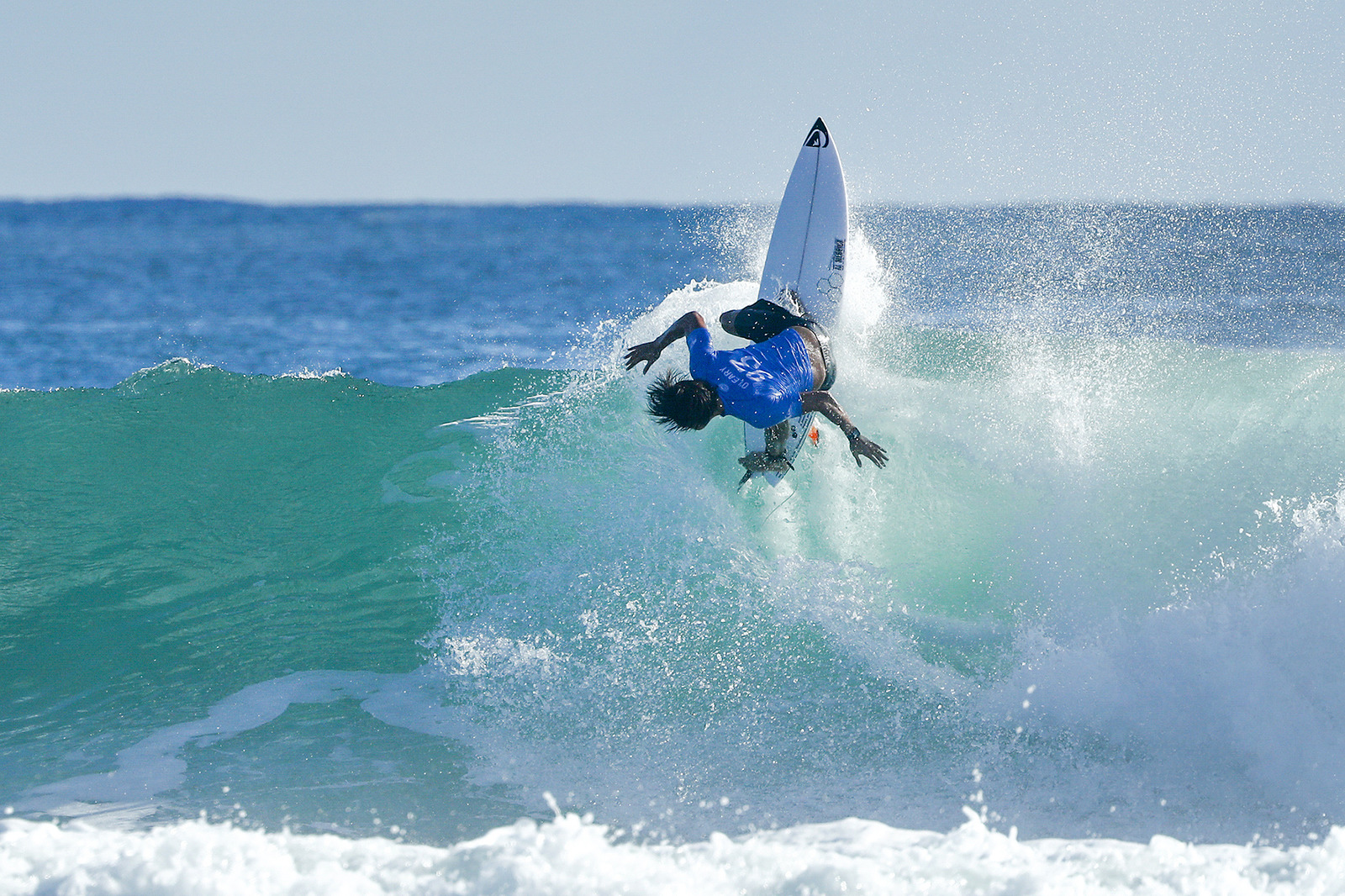 Photo Caption: Beyond vertical:Surfing World Tour Rookie Conner O'Leary advanced to Round Four of the Quiksilver Pro Gold Coast after winning Heat 9 of Round Three on Saturday. Picture WSL / Sloane
It took a long time but the moment that Connor O'Leary has been waiting for is almost finally here.  (Story by John Veage)
Welcome to the big time. O'Leary's first heat in the Quiksilver Pro on the Gold Coast, the first stop on the 2017 World Surf League Championship Tour, can't get much harder with O'Leary up against 2016 World Champion John John Florence and Mikey Wright, a Quiksilver wildcard surfer.

"I'm not striving for a crazy result first up," O'Leary said.
"I just want to go in there and feel my way through at my own pace and hopefully get a few good waves."
If he thought his first heat was hard how about round one, heat seven – Kelly Slater vs. Mick Fanning vs. Jeremy Flores – as 14 World Championship title belts face off.
The world's best surfers also hit the red carpet for the 2017 WSL Awards, the night that celebrates the achievements of last season and officially opens the new Championship Tour year.
Accolades and awards were delivered to those who have contributed to the sport, including O'Leary and Silvana Lima, the WQS number one qualifiers.
O'Leary, sponsored by Quiksilver, is the first Cronulla surfer since Kirk Flintoff in 2005 to qualify for the WCT and the goofy footer has the whole Sutherland Shire surfing community behind him. Finally local surfers have someone to follow.
Blake Johnston and the MOB surf store have really put their hearts on their sleeves, printing Connor O'Leary t-shirts and decorating the shop window.
O'Leary is not doing it all on his own. In a professional stroke of genius he has linked up with fellow goofy footer and ironically his Wanda neighbor and former world tour surfer Luke Egan as a coach and mentor.
"It's an investment for me. I want to get as comfortable as I can as quick I can and Luke's been to every spot like 20 times so he can tell me things I wouldn't know if I was just there by myself," O'Leary told Tracks magazine on the eve of his first event.
O'Leary isn't the only local surfer making waves this week with Elouera club mate Jared Hickel finishing third at the Komunity Project Central Coast Pro on Sunday after a good day of beachbreaks at Avoca-Hiroto Ohhara and Holly Wawn took top honours.
Fellow goofy footer Harrison Martin made the sixth round and Shane Campbell went in the fourth. Campbell has had a good Vissla NSW Pro Surf Series which was developed for Australian surfers to gain ranking points and prize money on the WSL Qualifying Series.
It leaves him in 39th place on the international rankings and fifth place on the Australasian rating – a good stepping stone.
https://www.surfingsutherlandshire.com.au/wp-content/uploads/2016/07/SSS-logo-1-300x138.jpg
0
0
Brad Whittaker
https://www.surfingsutherlandshire.com.au/wp-content/uploads/2016/07/SSS-logo-1-300x138.jpg
Brad Whittaker
2017-03-23 15:30:05
2018-12-16 19:38:22
Connor O'Leary Shines at Quiksilver Pro