By: Damien Murphy
"Mike Bright and I paddled out, started catching waves. Then people starting running across the car park to the beach. There were hundreds of them. I thought, 'sheesh, someone's had a heart attack'."
The speaker is Greg Noll . Eighty years old. Conqueror of Waimea Bay. That photograph at Pipeline. Those trademark black and white board shorts. "Da Bull". And the man who introduced the malibu board to Australia.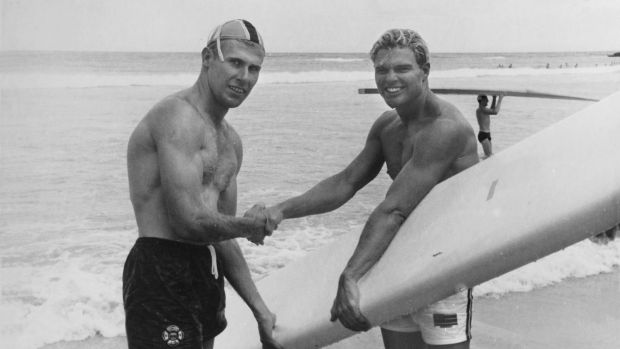 Brian Keane and American Tom Zahn. Photo: Supplied
Sunday, November 18, 1956, Noll and a couple of mates with a US lifesavers' team in Australia to compete in a surf life saving carnival staged for the Melbourne Olympic Games, were taken to a Sydney beach with their paddleboards to train in some waves after the long voyage across the Pacific.
"Mike [Bright a fellow Californian] and I also brought balsa boards along and I remember small waves breaking off these rocks to the left. And all these people just staring at us, kinda quiet."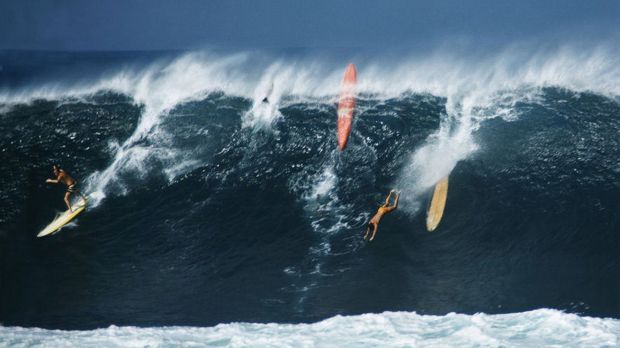 Greg Noll surfing Waimea in 1960. Photo: Supplied
Many beaches claim to be the birthplace of modern surfing but – Bondi, Manly, Freshwater and Avalon, eat your hearts out – it turns out to be the home of the NRL champions and the race riot, Cronulla.
Until Noll and his mate paddled out, the only surfboards most Australians were familiar with were the old hollow "Toothpick" style of surf craft but after Cronulla – and subsequent exhibitions by the Americans at Avalon and Torquay in Victoria – malibus ruled Australia's beach culture.
Noll is guest of honour at Surfing Sutherland Shire's month celebrating 60 years of surfing.
The celebration started on Saturday with a surf competition at Cronulla Point where Noll first rode 60 years ago. It is the first of several culminating with the World Surfing League's QS 6000 Women's event on November 3.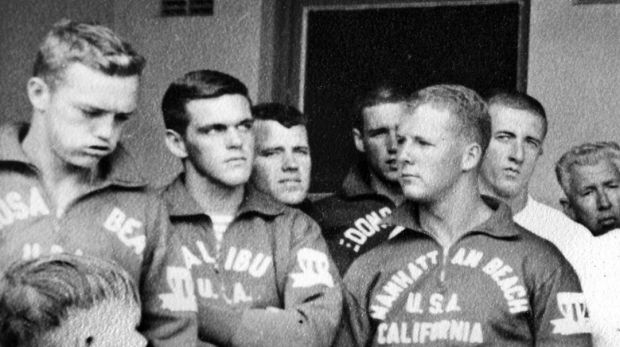 Greg Noll on the steps of Cronulla surf club in 1956 (second from left, arms folded). Photo: Supplied
Noll's duties this time around include unveiling a plaque on Cronulla Point commemorating the birth of surfing and being keynote speaker at a dinner where he will be questioned about his surfing life by surf journalist Nick Carroll.
Noll is one of the heroes of the period when surfing turned into a world craze.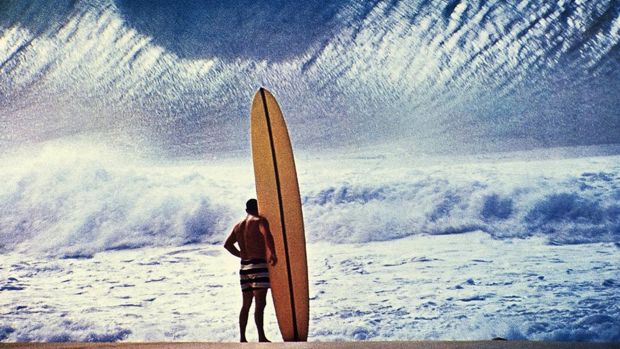 Greg Noll in the famous picture of Noll by Hall of fame surfer and artist John Severson. Photo: John Severson
Just a year after Cronulla, in November 1957, Noll was among the handful to ride Waimea Bay on Hawaii's North Shore for the first time. And as surfing exploded on both sides of the Pacific with the film Gidget, the Beach Boys, and Midget Farrelly's 1963 Makaha International Championship victory, Noll went on to become the epitome of beer-gut-to-the-wall big wave riding. In a nod to his girth and guts, fellow Californian surf god Phil Edwards, dubbed him "Da Bull". He conquered Outside Pipeline, and rode the biggest wave ever at Makaha, just as Laird Hamilton was born. A 1962 photograph taken by Surfer magazine founder John Severson of Noll on the beach at Pipeline in black-and-white-striped shorts adorned the walls of teenage boys from Malibu to Maroubra.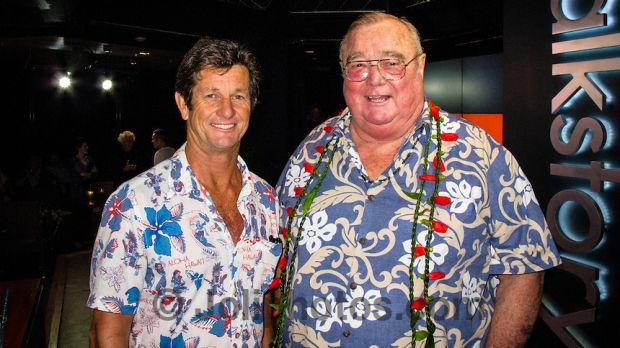 Greg Noll, nicknamed "Da Bull" by Phil Edwards in reference to his physique and way of "charging" down the face of a wave. Photo: JOLI
Noll said Farrelly, who died in August, was on the beach – probably Avalon – at one of the malibu exhibitions staged by the Americans.
"Some years back, Midget told me he saw me riding when he was 13, and there and then made up his mind that he found what he wanted to do for the rest of his life," he said.
"It's an honour to be told that by such a great champion."
Noll lives in northern California. He is still a waterman, fishing and occasionally boogie boarding, but admits his body has been ruined by years of hard labour in the surf and at the dinner table.
He remembers his first visit to Australia with great fondness.
"This lifesaver at Cronulla walked up, picked up my balsa board – I'd shaped myself – looked at the rail, spat, and said, 'I'll give you two bob for it' and walked away," Noll recalled.
"But they certainly loved us after we surfed"
"They gave me beer.  They played this game, throwing coins up in the air. I played and played and lost a lot of money. But they kept giving me beer. Then I barfed. That's most what I remember about bringing the malibu to Australia."
Source: SMH
https://www.surfingsutherlandshire.com.au/wp-content/uploads/2016/07/SSS-logo-1-300x138.jpg
0
0
Brad Whittaker
https://www.surfingsutherlandshire.com.au/wp-content/uploads/2016/07/SSS-logo-1-300x138.jpg
Brad Whittaker
2016-10-10 10:04:22
2017-03-23 15:33:19
Who knew? Cronulla is the birthplace of modern surfing